Some iPad/iPhone users are experiencing issues logging into their Facebook accounts through the app after upgrading to the new iOS. The Facebook login is entered in the Settings screen. Users suffering from this issue usually get an "Error Signing In Could not communicate with the server" message after typing in their password and are unable to delete the account.
This happens because the system actually pulls the Facebook login data from the previous iOS before you updated, therefore anything you enter in the new iOS' Facebook setting will not actually be used. This means if you changed your password or email before you updated your iPad, it is likely you will not be able to log in.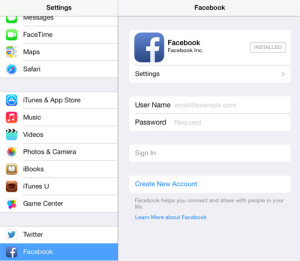 How to Login into Facebook Fix
The first solution is simple. Simply, go to Facebook.com through the browser (on the device or on your home computer) and change the email/password back to what you previously had it. You should now be able to log into Facebook through your device. After you sign in successfully, you are able to remove the account from the Settings screen. You can then change back your login information and add the updated account to your Apple device.
Here is another solution:
Go to Settings > Privacy > Facebook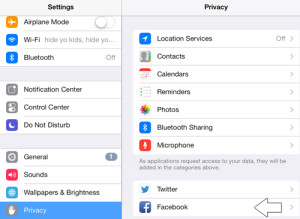 Disable the option for Facebook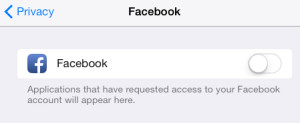 Afterwards, you should be able to log into Facebook and then you can reenable the Privacy setting.
One more solution:
Go to Settings > General > Reset > Reset Location & Privacy
Afterwards, try logging into Facebook again.
If all else fails, the foolproof method of fixing the issue is by restoring the device and setting it up as a new device.