The iOS 9 update no longer gives you an option to trust an untrusted developer or untrusted enterprise developer build from within the home screen. Users will receive an "Untrusted Developer Your device management settings od not allow using apps from developer on this iPhone/iPad. You can allow using these apps in Settings" popup when opening a sideloaded app or an "Untrusted Enterprise Developer iPhone Distribution: has not been trusted on this iPhone/iPad. Until this developer has been trusted, their enterprise apps will not be available for use." popup when opening an enterprise build app. The option to trust is located within the settings for iOS 9+.
How-to Trust An Untrusted Developer
1. Go to Settings > General > Profile (this may also be called "Device Management")
2. Press on the developer's name
3. Press Trust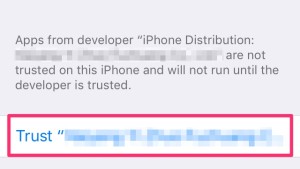 4. Press Trust again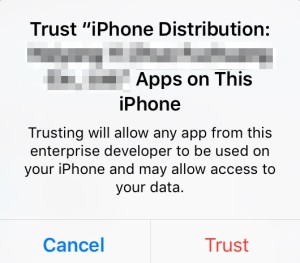 You will now be able to run the sideloaded app or enterprise build app.